The Spin in the Dramatic Emergence of Akshay Karnewar
With the Indian Premier League (IPL) auction just around the corner, Akshay Karnewar, the ambidextrous spinner from Vidarbha, has caught the imagination of the cricketing world with his unique feats at the ongoing Syed Mushtaq Ali Trophy. His four maidens in an innings, and a hat-trick, are just landmarks in what has been a very fascinating journey so far for the 29-year-old.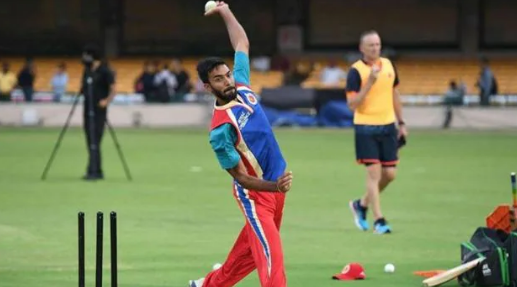 Akshay Karnewar of Vidarbha cricket team (Pic: HT, Twitter).
Akshay Karnewar, the ambidextrous spinner who is in red-hot form, was not even 11 when his bus driver father had a gruesome accident near Nagpur. It was the year 2000. Kisan Karnewar's right shoulder and right leg were fractured and a metal rod was inserted in the leg. He would never drive again. His son is now the driving force of not just the Karnewar household, but also the Vidarbha cricket team.
Akshay was the star as Vidarbha topped the Plate Division of the Syed Mushtaq Ali Trophy with an all-win record. The team not only entered the knockout stage of the tournament, but also earned a promotion to the Elite Division for the next season. And Akshay emerged as the top wicket-taker for Vidarbha with 10 scalps in five matches.
On November 8, Akshay became the first bowler in the world to bowl all four overs of a T20 match maidens (4-4-0-2 against Manipur) in Mangalagiri, Andhra Pradesh. The next day, he bagged a hat-trick with his left-arm spin against Sikkim at the same venue. He, in fact, captured four wickets, including the hat-trick, in five balls (4-2-5-4). Overnight, Akshay was in the headlines.
Also Read | Will We See More Foreign Players in Indian Football Clubs in the Near Future?
Significantly, Akshay notched these feats just before the Indian Premier League (IPL) player auction, whose date could be announced any day. With two IPL teams added to the existing eight, the franchise scouts present at the Syed Mushtaq Ali Trophy would have surely jotted down his name in their notebooks.
His on-field exploits this season and even earlier are being talked about for sure. However, Akshay's dramatic discovery from a nondescript village near Nagpur is a fascinating story in itself -- a proverbial gem being unearthed by an eagle-eyed coach.
Coach Balu Navghare spotted Akshay when he was around 10 years old, during a tournament he had organised in Pandharkawda, district Yavatmal in Maharashtra, in 2002. It was just a year after Akshay's father had met with the accident, and his family faced a financial crunch.
A few twists and turns later and almost two decades later, Akshay, 29, is now on the cusp of bigger deeds with the ball and bat as the Syed Mushtaq Ali Trophy knockout round starts in New Delhi on Tuesday, with Vidarbha clashing with Maharashtra in a pre-quarterfinal match.
Akshay used to play in village tournaments for fun when, by sheer providence, Navghare, also a former Vidarbha under-19 player, spotted him during the leather ball tournament he had organised. Navghare, an Assistant Superintendent in the District and Sessions Court, noticed that Akshay would throw the ball with both hands. "I observed that he had equal power in both hands and threw the ball with the same intensity. But at the time he was only a right-arm off-spinner; he was not a natural ambidextrous spinner," he recalls.
Also Read | Exclusive - Lalit Modi Questions BCCI's Due Diligence, Plots the IPL's Future Graph
"My team, Friends Cricket Club, didn't have a left-arm spinner and I forced him to bowl with left arm. Initially, he was reluctant, and had a foot problem while bowling with the left arm. However, after rigorous practice he mastered it. My madness made history," said Naughare, referring to Akshay becoming the first bowler to bowl four maiden overs in a T20 match.
A major turning point for Akshay came when Sharad Padhye, a former Vidarbha Cricket Association (VCA) joint secretary, noticed him at the trials conducted to pick the Vidarbha under-16 team in 2006. "I picked him for my club and made him play 'A' Division in the Guzdar League. We already had a left-arm spinner in Aditya Sarwate, but there was rivalry between the two and they played under-19, under-23 cricket together," says Padhye, the current president of Navniketan Club.
"Navghare told me Akshay was fit for opening the batting as well. He used to hit long sixes; he was an aggressive batsman. At the time, he would bat three or four down in the order," says Padhye. Now, Akshay, who opened the innings in under-19 cricket, says he is "comfortable" batting at No.6.
Fine performances ensured that Akshay progressed at a good pace, rising from the age-group ranks. Former Vidarbha coach Sulakshan Kulkarni is another man who has played a crucial role in shaping Akshay's career, points out Navghare and Padhye. "He encouraged and promoted Akshay," says Navghare.
One of Akshay's memorable matches was the Irani Trophy tie between Ranji Trophy champion Vidarbha and the Rest of India in 2019.  He played the winning hand in his team's triumph. Facing Rest of India's 330 in the first-innings, Vidarbha lost half the team for 168. With the cream of batting gone, Akshay (102, 133 balls, 176 minutes, 13x4s, 2x6s) along with wicketkeeper Akshay Wadkar (73) ensured the team took the vital innings lead, of 95 runs. Akshay was adjudged the Man-of-the-Match for his decisive knock while Hanuma Vihari's centuries in both innings for the Rest of India came in a losing cause. For some strange reason, Akshay's performance did not get the due it deserved.
Also Read | Tarak Sinha Tribute: Delhi Cricket Loses One of its Greatest Gurus
Akshay's cricketing journey is fascinating, for sure. However, his life story is compelling in equal measure. 
With his father, employed as a bus driver with the Maharashtra State Transport Corporation (MSTC), being laid low following an accident in January 2001, the family faced hard days. His father's elder brother chipped in and somehow the family managed to make ends meet.
Kisan recalls that horror accident. 
"It was midnight and I was about 80 kms away from Nagpur. Suddenly, the front tyre of a truck that was coming from the positive direction burst and it lost its balance. It collided with the bus I was driving. My right leg and right hand were fractured, and the bus hurtled down the slope. Later, a rod was inserted in my leg and I was declared 70% handicap. After the accident I was transferred to another department within MSTC as I couldn't drive anymore," narrates Kisan, who retired in 2017.
Before Kisan's retirement, his son had a fabulous outing at the Vijay Hazare Trophy in 2015, his debut season in the 50-over format. He bagged 16 wickets from seven matches to emerge as the top wicket taker for Vidarbha.
This performance opened the doors of the IPL for Akshay. Royal Challenger Bangalore (RCB) bought him for Rs.10 lakh. "Our family's condition was not that good. When my father retired, he was getting Rs.6,000 in hand to feed our four-member family," says Diksha, younger sister of Akshay. "However, when Akshay bhayya was picked by RCB, our financial position improved. Now, he is fully responsible for looking after the needs of the family."
Akshay has so far bagged 10 wickets in five matches at the ongoing Syed Mushtaq Ali Trophy. His penetrative bowling would have raised his stock by a few notches in the eyes of the IPL scouts who always watch this T20 tournament to tap talent for the auction.
Additionally, Akshay has the advantage of bowling with both arms. "When the opposing batsman is a right-hander, he bowls with his left arm and when it's a left-hander he switches to right-arm spin. Whenever I need a wicket of a right-hander I look up to him. He is a very confident cricketer," says Vidarbha captain Wadkar. 
At times, people point to Akshay Karnewar's age – 29 – and wonder how far he can go. The cricketer brushes aside such thoughts, and cites the case of Pravin Vijay Tambe, who made his IPL debut at the age of 41 for Rajasthan Royals in 2013. "I feel age doesn't matter. My goal and aim has always been the same that every boy who plays in India has – break into the national team, eventually. For that, I have to be mentally and physically fit – and perform consistently," Akshay tells NewsClick.
Akshay has already shared a team dressing room with Virat Kohli and other stalwarts after RCB picked him. Although he did not play any match, he gained crucial experience by observing his seniors in the dressing room. "I learned a lot from the seniors. I spoke to Kohli, but not much as I was a bit hesitant in approaching such a great player," he says.
Navghare has high expectations from Akshay. Sharing a secret, the coach says: "I've told Akshay that I have a dream – to give the Indian team a player, and that player is him."
With the advantage of having been guided by such sincere souls, Akshay is now focused on Syed Mushtaq Ali Trophy pre-quarters. These matches would be telecast and good performances would be noticed by people who matter, including those who would call the shots at the upcoming IPL auction. "One should always have expectations from oneself. But right now my focus is the pre-quarterfinal match against Maharashtra. It's important for me to perform in the knockout round," says Akshay, brimming with confidence.
(The author is a cricket reporter based in New Delhi who has covered the sport for over three decades)
Get the latest reports & analysis with people's perspective on Protests, movements & deep analytical videos, discussions of the current affairs in your Telegram app. Subscribe to NewsClick's Telegram channel & get Real-Time updates on stories, as they get published on our website.
Subscribe Newsclick On Telegram