The Two Sides to Virat Kohli ́s Ascension as India's Most Successful Captain | On the Ball
Having overtaken MS Dhoni's record, Virat Kohli's new India is surely going to push the bar further. Seminal series victories in Sri Lanka and Australia define his ongoing legacy. How much of that, though, is about their opposition's distress rather than India's own prowess?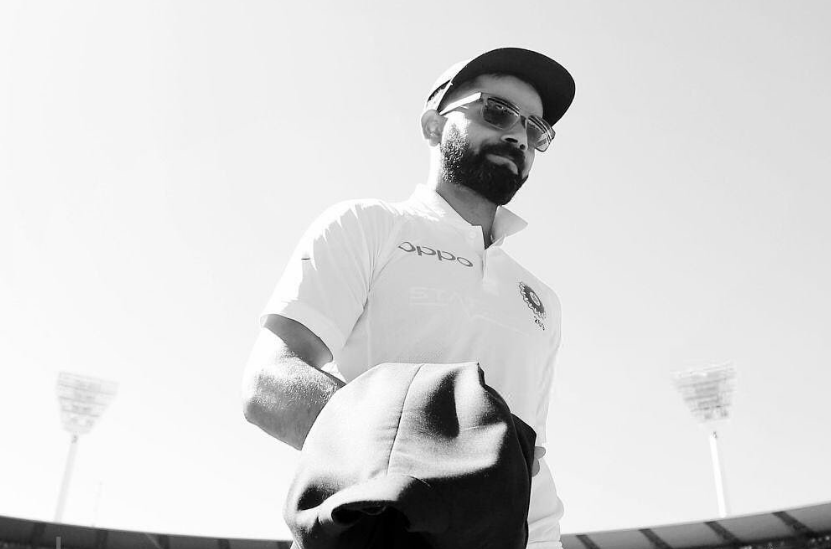 Virat Kohli ́s win percentage of 57.77 is significantly higher than 27 others who have captained Indian cricket team in more than two Tests.
For the foreseeable future, Virat Kohli will remain India's winningest Test captain. With a second successive drubbing of an insipid West Indies in the Caribbean last week, he catapulted past MS Dhoni by leading the team to a 28th victory in the longest format, his win percentage of 57.77 significantly higher than 27 others who have captained India in more than two Tests.
On the face of it, that should come as no surprise. After all, Kohli is the admiral at the helm of a well-oiled machine brilliantly served by a pace attack comparable to the best in the world. His batting unit has both class and experience, and he has an embarrassment of spin riches which means he can afford to leave out the man fastest to 300 Test wickets when there is place for only one tweaker in the playing eleven. With the skipper as the talismanic inspiration, fitness standards have gone through the roof, meaning the quicks are able to maintain menace for longer periods, the batsmen are as comfortable stealing singles in the final session of a hot day as they are at the beginning, and that fielders have long stopped playing escort service to balls speeding towards the boundary.
Read More | Alchemy Through IQ: How PV Sindhu Flipped the Script to Make History
Inherently aggressive as a batsman and as a captain, Kohli would rather go down fighting in the quest for victory – like he did on debut in a stand-in capacity in Adelaide in December 2014 – than settle for a dull, uninspiring stalemate. That explains why, under him, India have only been involved in 10 draws in 48 encounters, six of them in matches severely affected by the weather. Undoubtedly massively influenced by the Twenty20 mindset, more and more Tests are in any case ending decisively; with his own brand of attacking leadership, Kohli is buttressing the norm and rapidly establishing himself as a captain upon whom history will smile benignly.
Numbers, as they always have been, are wonderfully pliant beasts. While you can't argue with them, they do leave themselves open to interpretation, depending on context. And convenience.
Sample this. India have won five overseas series under Kohli – two each in Sri Lanka and the Caribbean, one in Australia. The first of those triumphs in the neighbouring teardrop island, in 2015, was a terrific come-from-behind 2-1 result, India's first series victory in that nation in 22 years. When Kohli's band pulled off a 2-0 win in the West Indies in 2016, it was the first time there that they had won more than one Test in the same series. And the 2-1 verdict in Australia earlier this year remains the country's only series triumph there in 71 years.
Read More | Ben Stokes and the Art of Hitting Odds Out of the Park | On the Ball
And this. Convenience, if you insist, but also factually impossible to contest. The Sri Lankan teams India encountered, and especially in 2017, were singularly ill-equipped to tackle the challenges of Test cricket, West Indies have degenerated to the extent that it is painfully embarrassing to see the one-time lords of the game keeling over like a loosely stacked deck of cards caught in a raging gale. And, Australia were in disarray during their last summer when Kohli's men went calling, reeling from the thunderous aftershocks of Sandpapergate that had not just left them without batting virtuosos Steve Smith and David Warner, but also mentally scarred, psychologically battered, their confidence and morale in tatters.
Do these factors make any of these victories less sweet? Must these be riders, or mere footnotes because it isn't Kohli's, or his side's, fault that they had no control over what happened in the opposition camp? After all, the record books don't qualify these victories with an asterisk, so is it anything more than just nit-picking? Are we organically driven to view only the tenth of the glass that is empty, and not the nine-tenths that is full?
Maybe we are. Or maybe we are not. Depending on which side of the electric fence we are on – the electricity emanates from the vast polarization Kohli effortlessly seems to trigger. To me, these will forever be deserved victories fashioned by a fabulous collective that made the job of the captain that much easier.
Read More | National Sports Day 2019: What's the Big Idea?
India reclaimed the No. 1 Test ranking in October 2016, an exalted status they have continued to enjoy for nearly three years thereafter. During that passage, they triumphed at home against New Zealand (3-0), England (4-0), Bangladesh (1-0) and Australia (2-1) in an invigorating six-month period when they lost just one of 13 Tests. And yet, on overseas tours outside of the island nations, they continued to flounder until their conquest of the somewhat deflated Australians.
It was widely believed that 2018 would provide Indian cricket irrefutable proof of where they stood as a cricketing entity. Of whether the No. 1 Test team was also the best Test side in the world. Australia towards the end of the year was to come on the back of testing sojourns to South Africa and England. Arming themselves with a mindset that prompted them to approach every Test as a home game, India promised much in both series, yet came away with little to show apart from one win in each. 1-2 in South Africa, 1-4 in England. It was a timely reality check that not even the epochal result in Australia should, or will, mask.
Outfits that have dominated Test cricket for long periods are marked by a stable, settled core disturbed only by exigencies of form or injury and, occasionally, the need for horses for courses. Kohli's mantra has been different. He is not averse to shaking things up; indeed, it wasn't until his 39th Test in charge that he fielded the same eleven for two successive matches. Under him, there have been 11 debutants, three of whom didn't play another Test, a fourth who appeared in two matches and a fifth (Jayant Yadav) who was jettisoned after four Tests that produced 228 runs (including a century) and 11 wickets.
Read More | Sanjay Bangar, Indian Cricket Team's Fall Guy
Experienced batsmen have been dropped for the odd Test match, among them his long-term deputy Ajinkya Rahane and Cheteshwar Pujara. Bowlers haven't been spared, either. R Ashwin finds himself at a crossroads, possibly unsure if his presence in the first Test against South Africa in Visakhapatnam next month is a shoo-in. Bhuvneshwar Kumar was dropped in South Africa for the Test following his six-wicket match haul in Cape Town. And Umesh Yadav has played just one of six away Tests since taking a 10-wicket haul against West Indies in Hyderabad last October.
In Kohli's defence, there would appear to be a method, however well-concealed, to this madness, as evidenced by the results. In the absence of any official word, it can only be assumed that Kohli will continue to remain in charge till at least the end of the current World Test Championship cycle, in June 2021. That will encompass home series against South Africa, Bangladesh and Australia, and further away tours of New Zealand and England. The Kohli Legacy will be firmed up by then. And he most certainly won't be sitting on just 28 Test wins.
(Kaushik is a veteran cricket writer who has reported on over 100 Tests. He co-authored VVS Laxman's autobiography '281 and Beyond')
Get the latest reports & analysis with people's perspective on Protests, movements & deep analytical videos, discussions of the current affairs in your Telegram app. Subscribe to NewsClick's Telegram channel & get Real-Time updates on stories, as they get published on our website.
Subscribe Newsclick On Telegram